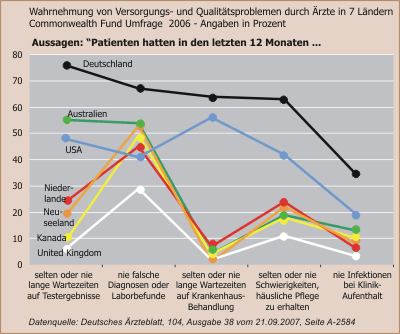 Click here for videos from the event:
http://www.youtube.com/watch?v=FT2d87__jf8
http://www.youtube.com/watch?v=j5C2RUGJsT8
At the symposium "Demographic change and medical care in Germany", representatives of doctors, hospitals, federal and state ministries as well as medical students, discussed about the causes of doctor shortage, the future demand for doctors, and the expectations of young doctors. Together, the participants want to address the most pressing problems and identify possible solutions.
"Once again, we need to free the path into the medical profession". The framework for the medical profession must be redesigned in such a manner that aspiring doctor their vocation rediscover in the care and treatment of patients. It's about the motivation of an entire generation of doctors. "A society aspirin at a long life needs doctor in clinics and practices and not in other professional fields", warned Prof. Dr. Jörg-Dietrich Hoppe, president of the Federal Chamber of Physicians, on the symposium of the Federal Chamber of Physicians.
"More and more doctors choose to migrate to alternative occupations or go abroad. The number of those who finish their studies successfully, but then not get into the training at the hospital is frighteningly high: about 20%. Perceived as an unfair pay and the frequent incompatibility of work and family act as a deterrent for the doctors of tomorrow. We urgently need to reduce these barriers for new entrants, "demanded BÄK Vice President Dr. Frank Ulrich Montgomery. The framework should change, if one wants to accept no increase in the numbers of waiting lists, multi-tier health system as an expression of the defect and a thinning of outpatient care in the area. "If we want to inspire the young people back to our work, we need to adjust the conditions to fit their needs", said Montgomery.
"The trend towards shorter working hours and the so-called feminization of the medical profession also requires that the already lower volume of work needs to be spread over several heads. However, at the same time as the workload increases, there is an increasing compression of work overload and lack of motivation of doctors", said Dr. Christopher Fox, Executive Director of the Federal Chamber of Physicians. "We finally need to appreciate the medical work, more jobs in hospitals, reducing overtime and bureaucracy, better pay and finally more offers for child care in the hospitals", said Fuchs.
Auf dem Symposium "Demografischer Wandel und ärztliche Versorgung in Deutschland" diskutierten Vertreter von Ärzteschaft, Krankenhäusern, Bundes- und Landesministerien sowie der Medizinstudierenden über die Ursachen des Ärztemangels, den zukünftigen Bedarf an Ärzten und die Erwartungen der Nachwuchsmediziner. Gemeinsam wollen die Teilnehmer die dringlichsten Probleme ansprechen und mögliche Lösungsansätze aufzeigen.
"Wir müssen den Weg in den Arztberuf wieder frei machen. Die Rahmenbedingungen für den Arztberuf müssen endlich so gestaltet werden, dass die angehenden Ärzte in der Betreuung und Behandlung von Patienten wieder ihrer Berufung finden. Es geht um die Motivation einer ganzen Generation nachwachsender Ärztinnen und Ärzte. Eine Gesellschaft des langen Lebens braucht Ärzte in Klinik und Praxis und nicht in anderen Berufsfeldern, sonst bricht die Versorgung ein", mahnte Prof. Dr. Jörg-Dietrich Hoppe, Präsident der Bundesärztekammer, auf dem Symposium der Bundesärztekammer
"Immer mehr ausgebildete Ärzte entscheiden sich gegen eine kurative Tätigkeit und wandern in alternative Berufsfelder oder ins Ausland ab. Die Zahl derjenigen, die ihr Studium erfolgreich beenden, dann aber nicht in die Weiterbildung am Krankenhaus einsteigen, ist erschreckend hoch: ca. 20 Prozent. Eine als ungerecht empfundene Bezahlung und die häufige Unvereinbarkeit von Beruf und Familie wirken abschreckend. Diese Hürden für Berufseinsteiger müssen wir dringend abbauen", forderte BÄK-Vizepräsident Dr. Frank Ulrich Montgomery. Die Rahmenbedingungen müssten sich ändern, wenn man keine Zunahme von Wartelisten, Mehrklassenmedizin als Ausdruck des Mangels und eine Ausdünnung der ambulanten Versorgung in der Fläche akzeptieren will. "Wenn wir die jungen Menschen wieder für unsere Arbeit begeistern wollen, müssen wir die Bedingungen auch ihren Bedürfnissen anpassen", so Montgomery.
"Der Trend zur Arbeitszeitverkürzung und die sogenannte Feminisierung der ärztlichen Profession bedingen zudem, dass das schon gesunkene Arbeitsvolumen auf mehrere Köpfe verteilt werden muss. Da aber zeitgleich die Arbeitslast steigt, kommt es zu einer zunehmenden Verdichtung von Arbeit, Überlastung und Demotivation von Ärzten", sagte Prof. Dr. Christoph Fuchs, Hauptgeschäftsführer der Bundesärztekammer. Gerade aber weil sich der Versorgungs- und Finanzierungsbedarf insbesondere der älteren Patienten schon bald deutlich erhöhen wird, müsste jetzt umgesteuert werden. "Wir brauchen endlich eine Wertschätzung ärztlicher Arbeit, mehr Stellen in den Kliniken, Abbau von Überstunden und Bürokratie, eine bessere Bezahlung und endlich mehr Angebote für die Kinderbetreuung in den Krankenhäusern", so Fuchs.